Facebook Messenger Adds…Ads?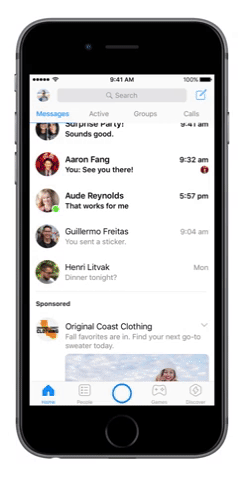 It hasn't been long since Facebook announced advertisers can now "create a Facebook News Feed ad that opens a Messenger conversation between your business and your prospective customer." It seems like a great addition—especially anyone running direct response campaigns.
Even more recently, Facebook has also been testing display ads inside of the Messenger platform and eventually plans to roll this feature out on all Messenger accounts. After encountering a problem finding enough inventory for its Newsfeed ads, targeting the 1.2 billion people using Messenger seems like a given.
The Messenger App has grown increasingly into its own platform with a variety of features. In the last few months, it has added Stories at the top of the app along with tabs at the top and bottom of the page including people tabs, a tab for games, and a "discovery" tab which is full of very content-based, ad-like objects not unlike Snapchat's content feed (also called Discover.)